Raiders Las Vegas Move Means Major Demand as NFL 2020 Sales Kick Off
TicketNetwork sees strong sales despite Covid-19 uncertainty after NFL schedule release
South Windsor, Connecticut – May 12, 2020 –
The Las Vegas Raiders were at the forefront for football fans as NFL tickets for the 2020 season began moving with Thursday's announcement of the league's schedule. Las Vegas, set to open a brand new stadium as the second professional sports franchise in the city, was No. 1 in sales across the TicketNetwork exchange, with more than ten times the volume the team saw over the same span a year ago prior to its move to Nevada.
Despite concern that sales would be sluggish due to the ongoing impact of the Covid-19 pandemic and the uncertainty of when live events with large crowds might return, sales were very strong overall. Sales in the first four days following the schedule release were down by just 30 percent, with the average order value across all teams slightly up from 2019 ($763 compared to $746).
"The early returns are in, and it looks like consumers are very much looking forward to being able to get back out to games to cheer on their teams this fall," TicketNetwork spokesman Sean Burns says. "While there is a lot left to be determined about how and when we might be able to return to large scale events safely, the past few days have shown that there is definitely a demand for these events when we can."
If early returns are to be believed, Las Vegas is going to be the place to be this fall, as the newly-relocated Raiders saw double the sale volume for their home games for all but one other franchise – the Dallas Cowboys. Three Raider home contests made the Top 5 in terms of single-game sales thus far, including its home opener on September 21 against New Orleans, which came in at No. 1 overall. Super Bowl LIV champion Kansas City saw the third-highest sales, followed by the Tampa Bay Buccaneers, who rode a major spike in demand following the offseason signing of Tom Brady – nearly seven times what they saw last season following the schedule release.
2019 NFC Champion San Francisco saw the highest average ticket price across the multitude of websites powered by the TicketNetwork exchange, going for $459 per seat, $41 more than No. 2 Las Vegas. Dallas, Seattle and Green Bay rounded out the Top 5 in terms of average price.
On the flip side, New England saw the biggest reduction in its demand, dropping from the No. 2 total sales position after four days a year ago to the mirror image – ahead of only Washington at the bottom of the table.
NFL 2020 is set to get underway with training camp and preseason games in July and August, with the regular season kicking off with Houston visiting Kansas City on September 10.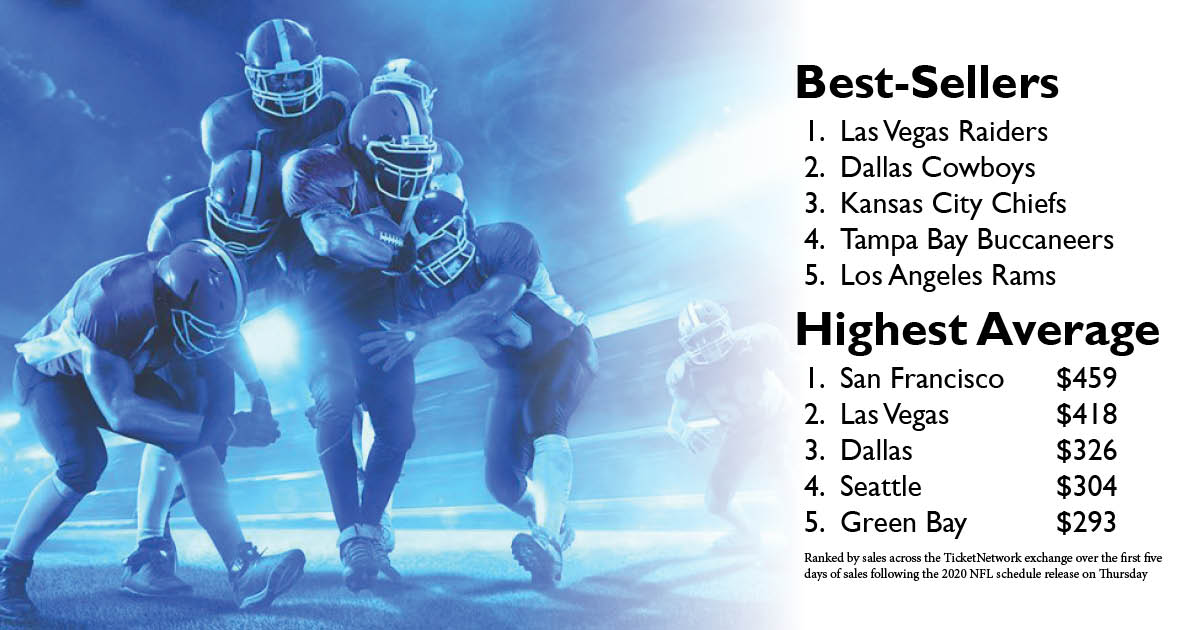 Top 10 Selling Teams
Las Vegas Raiders
Dallas Cowboys
Kansas City Chiefs
Tampa Bay Buccaneers
Los Angeles Rams
San Francisco 49ers
New Orleans Saints
Los Angeles Chargers
Pittsburgh Steelers
Denver Broncos
Highest Average Price
San Francisco 49ers $459
Las Vegas Raiders $418
Dallas Cowboys $326
Seattle Seahawks $304
Green Bay Packers $293
Trending Upward (Total sales vs. 2019)
Las Vegas Raiders
Tampa Bay Buccaneers
Los Angeles Rams
Baltimore Ravens
Buffalo Bills
Trending Downward (Total Sales vs. 2019)
Washington Redskins
New England Patriots
Cleveland Browns
Chicago Bears
Green Bay Packers
Top 10 Games
New Orleans at Las Vegas – September 21
Houston at Kansas City – September 10
Pittsburgh at Dallas – November 8
Kansas City at Las Vegas – November 22
Tampa Bay at Las Vegas – October 25
Kansas City at Tampa Bay – November 29
Dallas at Los Angeles Rams – September 13
San Francisco at Dallas – December 20
Minnesota at Tampa Bay – December 13
Philadelphia at Pittsburgh – October 11
About TicketNetwork
TicketNetwork® is a leading software provider in the secondary ticket marketplace, powering an extensive network of retail websites offering tickets to sought-after concert, sporting, and theater events worldwide. Based in South Windsor, Connecticut, TicketNetwork was founded in 2002.
CONTACT
Sean Burns
sean.burns@ticketnetwork.com
(860) 644-4000 x1156
(443) 928-7331 (mobile)